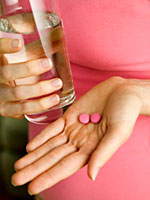 By all measures Viagra has been a wildly successful drug, and is now used by 20 million men worldwide to boost their sex lives. But a woman might ask: "Why no quick fix for me?"
It's not for lack of trying by pharmaceutical companies. Even before Viagra hit the shelves in 1998, the search was on for a drug that could ramp up women's sex lives. But more than a decade later, still nothing.
The latest disappointment is flibanserin, a contender to be the first approved drug that enhances sexual desire in women. A Food and Drug Administration advisory panel recently reviewed this experimental drug, and advised against its approval. (The FDA usually follows the advice of such panels.) The modest increase in women's sexual satisfaction did not outweigh the side effects, which include fatigue and depression, the panel said.
Some women do have sexual dysfunction. The problem, experts say, is often a lack of desire for sex rather than the ability to perform it, which would be akin to male sexual dysfunction. In fact, some experts object to the creeping medicalization of women's sexual dysfunction, and say there's a potential to overdiagnose women with hypoactive sexual desire disorder (HSDD), a condition characterized by low sexual desire, to the point it causes distress.
Karen M. Hicks, PhD, an adjunct professor at Lehigh University, in Bethlehem, Pa., and a founding member of the Consortium for Sexuality and Aging, says a lack of sex drive has been "framed by the medical community as a disease state that you need to be, or could be, cured from with a pill," says Hicks. For many women, however, sexual problems may be better treated with therapy or other approaches. "Taking a pill is the easy way out," she says.
Although experts agree that some women could get sexual healing from a pill, they're not sure how many women are actually in this group. The fact is that even if there were such a drug on the market, it's unlikely to be a one-size-fits-all cure like Viagra is for men with erectile dysfunction.